Are Dogs Allowed In Flights
Travel bloggers, people with a passion for traveling or people with a job that has them traveling to states/countries a lot, are often distressed about the well-being of their pets. Most of them have to leave the dogs at home because they are not aware of the protocols of taking a dog on an airplane. You might have heard of dogs up for adoption because the owners are moving. One of the reasons behind this is that dog owners are hesitant about their dog traveling on a flight due to less information available on the topic.
When it comes to traveling via air, there are far more rules and documents for pets to travel than for humans. The protocol and documentation vary from country to country and airline to airline, but the basics are the same. Here is how you can travel with your fur baby to your favorite destination.
Following are the pre-boarding requirements for your dog
Small pet dogs weighing up to 20 pounds are allowed in the cabin with their owners. You can bring your pet along and board the flight with the correct documents. Here are the following things you need before boarding a flight.
Registration
Airlines have a limited number of seats for pets. To avoid any hassle, you have to inform the airline in advance and get your pet registered for a spot on the flight. If all the spots get filled when you contact the airline, there is nothing you can do about it, and your pet will not be allowed on the flight. The limit does not apply to service or therapy dogs.
Fees
While registering your dog for a flight, you have to pay a fee for bringing your dog. It is like a plane ticket for your dog that costs somewhere between $80- $120. The chargetravels do ntravelot apply to therapy, service, or emotional support dogs.
Carriers
Dogs can not just freely wander around the flight. The rules state that dogs should be carried in TSA- approved carriers. Carriers should be soft side and well- ventilated. Carriers should be just big enough to fit below the seat in front of you. Each airline has specific dimensions for the carrier that generally stated on their website or in the rules booklet. Smart planning is to check the dimensions beforehand to make sure the carrier you are going to use will fit in the flight without causing any problems for others.
Paperwork
The pet policies of the airlines vary from each other and keep changing. Some of them require extensive paperwork while some don't. it is always smart to carry your dog's health record, vaccination records, license, and other important documents, if you have any with you, to avoid any last-minute complications. Some airlines need your pet's paperwork to be submitted 48 hours before the flight for their perusal. Airlines like Delta even have a policy or a behavior voucher, meaning you have to sign a document vouching for your dog that it will behave during the duration of the flight.
Age
Young dogs have a weak heart and are likely to suffer a stroke during the flight's journey. Observing this, many flights don't allow 16 weeks or younger dogs to travel via airplane. Some breeds are banned from boarding a plane due to the same reason.
Baggage
Baggage rules apply to the carrier too. It is counted as a carry-on bag or personal item. So, if you want to bring a carry-on bag on to the flight along with your pet's carrier, the airline will charge you for an extra bag. Some airlines allow two pets to stay in one carrier as long as the sum weight is not more than 20 pounds.
Symptoms of diabetes in dogs
Dogs with diabetes can have a combination of different clinical symptoms. Increased thirst, increased urination, and increased appetite are common symptoms. When cells die of glucose starvation, the body can begin to break down fat and muscle for energy, resulting in weight loss.
Dogs with diabetes may also appear tired at times because their body does not get enough energy. The glucose normally taken by cells for energy will remain in the bloodstream and will not produce the tissues it needs. This can also lead to problems with vital internal organs such as the liver and brain. Vomiting and diarrhea are possible, especially if there are side effects of diabetes such as pancreatitis. Cataract formation of the eyes is also possible.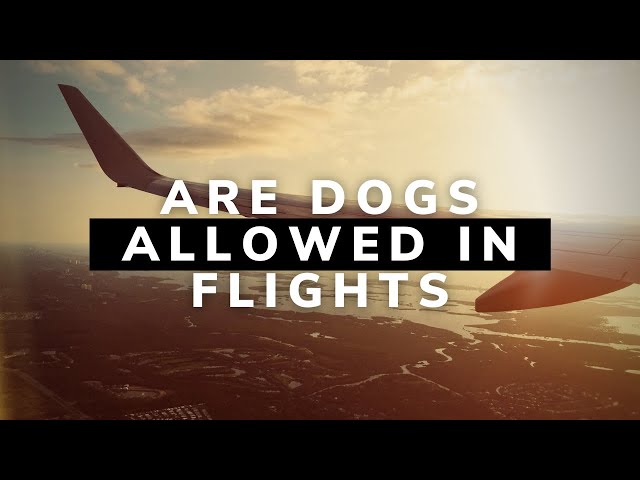 International Flights
Some flights allow pets to travel in the cabin, but things are different on international flights. You might not be allowed to take your pet in the plane cabin with you on the International or a linking flight. In such cases, dogs have to travel in the cargo hold. Some airlines might have an exceptional clause. Check all these queries with the airline before booking your tickets.
Check-in
The pets have to be checked-in physically at the counter. The online check-in feature does not apply to pets. Hence be sure to arrive enough little early at the airport for the check-in process if you are bringing your dog in the cabin with you; so that you don't miss your flight.
Security
Do not make the mistake of passing your dog through the x-ray machine. Pets do not go through an x-ray machine, the carrier does. Remove your pet from the carrier and walk with it through the security check while the carrier passes through the x-ray machine.
At the airport
In the airport premises, dogs must stay in their carriers at all times. Some airports have pet relief areas for your pets to relieve themselves. Otherwise, your pet should be in its carrier. If the airport does not have a designated pet relief area, you will have to take your dog outside the airport and return through the security check.
On-board
During the flight, your pet can not leave its carrier. It is to be inside the locked carrier at all times for the sake of the passengers. The carrier has to go below the front seat and nowhere else. You can not keep it in your lap or the overhead cabinet, only below the front seat. The rules are made considering the comfort of fellow passengers and should be followed positively for a smooth flight.
Behavior Check
Your dog's behavior should be socially appropriate. The airline reserves the right to deny you and your dog the boarding rights if it is aggressive towards the staff or other passengers.
Some pet-friendly airlines are- American Airlines, Delta, Air India, Air Canada, Jet Blue, and Air France.